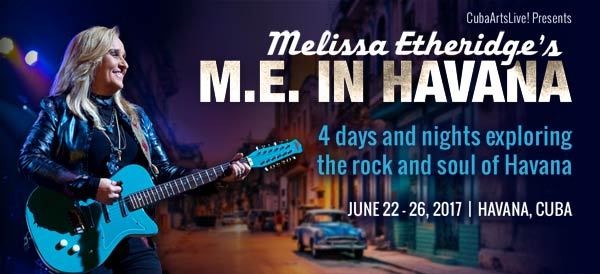 MEIN Exclusive: Announcing Melissa Etheridge's M.E. in Havana June 2017
MEIN Members-Only Special Offer!
Register for M.E. in Havana by Dec. 31 & receive:
- Promo code good for $200 off per person
- 48 hour exclusive pre-sale window
- Seats in first five rows for Melissa's Havana Theatre concert
- VIP area seating for Melissa GA concert in Havana
- Limited-edition lithograph poster signed by Melissa
(Posters are distributed in Cuba)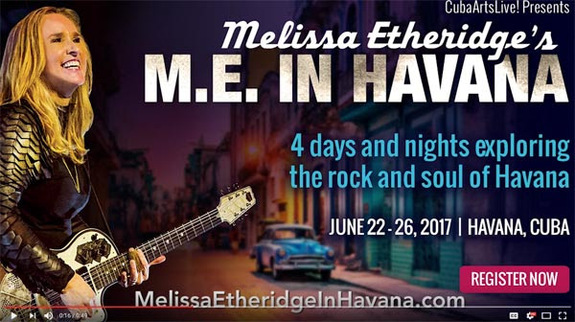 Join Melissa for 4 days & nights of activities including:
An Intimate Melissa Etheridge Concert for our Group
VIP Tickets to a Second Melissa Etheridge Concerts with Special Cuban Guests
Concerts Every Other Night by the Best Groups in Cuba
A Meet-and-Greet and Signing with Melissa Exclusively for Us
Visits with Leading Visual Artists in Cuba at their Private Galleries
A Music Workshop Led by Melissa
Visits to the Leading Museums and Cultural Institutions
A Meeting with leading Cuban Women's Rights Activists and Artists
A Drive Around Havana in a Classic Convertible!
Walking Tours of Old Havana
Cigar and Rum Tastings
Rumba and Salsa Dance Parties
Historic Architectural Tours and SO MUCH MORE!
Participants of all ages, levels, interests, and tastes welcome!
"There's this beauty and romance to it. I'm going to experience that for the first time hopefully with you!"
MEIN Exclusive Registration opens Friday Dec. 16 @ 9 AM EST at
www.melissaetheridgeinhavana.com

**Your promo code will be in your account dashboard today at 11 am Pacific.**
***Only reservations for MEIN members will be accepted this weekend. One member of the reservation must be a member of MEIN. If neither you nor any of your roommates are MEIN members, your reservation will be discarded! Your credit card will automatically be billed and it will take up to 2 billing cycles to receive a refund.***
Questions regarding the trip, payment plans or packages?
Please call 800-372-1007.
If you'd like to extend or customize your travel plans in any way, once you sign up, you will be directed to a travel agent in Cuba. More info to come.